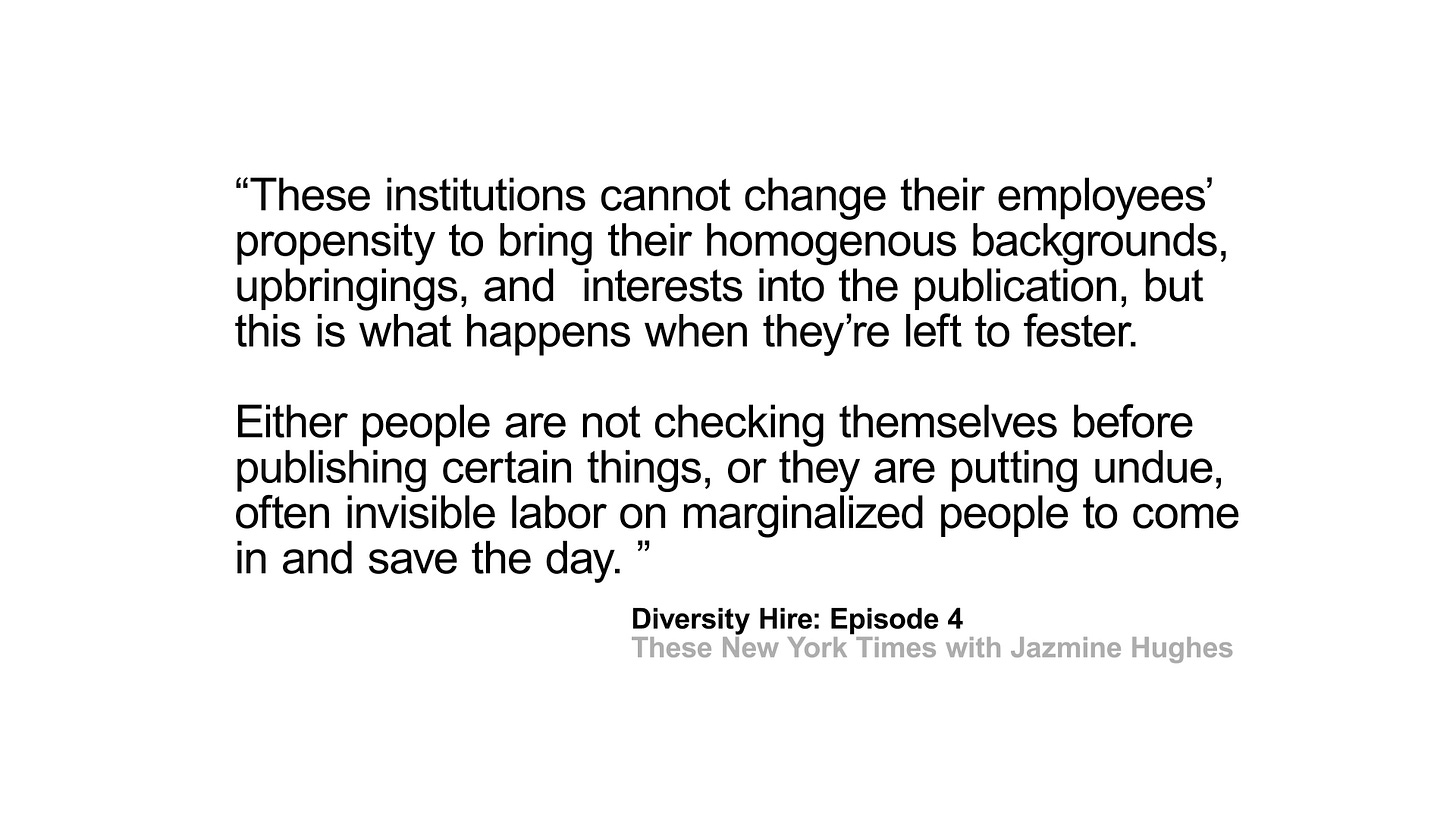 Welcome to the fourth episode of Diversity Hire.
Subscribe on Apple Podcasts or Spotify
Today we talked to Jazmine Hughes (The New York Times Magazine) about the halcyon days of early 2010s media, the usefulness of a word like diversity, swimming, skateboarding, and workplace politics. She also guides us through what her life was like in the days following the Tom Cotton op-ed. Finally...this is our first episode without a disclaimer…or is it? *BWAAAANG*
Jazmine wonders what's gonna happen when she turns 30 (3:55)

Jazmine guides us through her career timeline (7:23)

Gawker, the Hairpin, and the halcyon days of early 2010s media (15:38)

Transitioning from the blogosphere to The New York Times (19:40)

I Dressed Like Cookie for a Week to Get Over My Imposter Syndrome (Cosmopolitan, 2015) (23:47)

Why Jazmine writes about workplaces (26:16)

Jazmine guides us through the fallout of the Tom Cotton Op-ed (31:35)

Corporate media accountability (44:24)

Arjun is scared that his corporation will fire him because of this podcast (please don't fire me), and asks Jazmine if she was scared (49:25)

Jazmine on white people who mock their own whiteness to seem "cool" (53:15)

Interlude: Jazmine is learning how to skate, Arjun asks if she's gonna get her feet wet in Dimes Square (57:34)

Learning to Swim Taught Me More Than I Bargained for (The New York Times Magazine, 2019) (58:53)

Writers of Color (1:02:02)

Does Jazmine like the word diversity? Does she think the word represents her? Does she think she represents it? (1:06:00)

Arjun asks Jazmine if she's ever experienced an instance of racism while working in the media (1:13:34)

Kevin asks Jazmine about having to be a sensitivity reader in the workplace (1:17:42)

The Diversity Tribunal (1:21:55)
Jazmine would like for you to Venmo the investigative journalist Tammie Teclemariam, to subscribe to your local newspaper, and to donate to your community aid fund.
This is your brain *picture of your brain*. This is your brain on Diversity Hire *it's the same picture of your brain, but this time it's wearing a shirt inside out so it looks like Eckhaus Latta*. Any questions? If so, email us at diversityhirepod@gmail.com. We'll read your questions in an upcoming Q&A episode. Also, please rate and review us on Apple Podcasts. You can use your review to share anonymous experiences of working in corporate media, and we will read those on the pod as well.