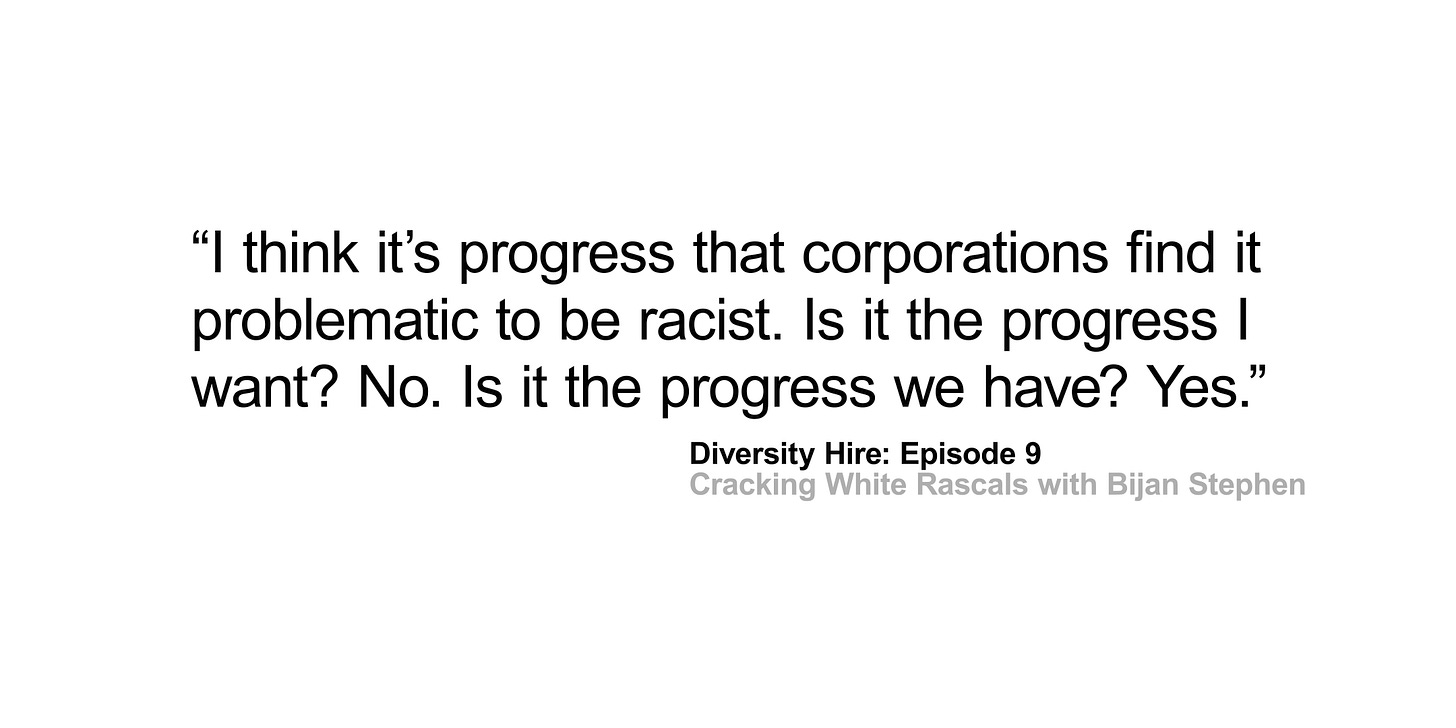 Hello and welcome to episode 9 of Diversity Hire.
Today we talked to Bijan Stephen, a staff writer at the Verge. We discussed Bijan's circuitous and wide-ranging career in the media, which included stops at Vanity Fair, The New Republic, Vice News, a Yale gossip rag, and much more. We also talked about his early reporting on social media and BLM, what's changed with the recent protests, streaming, gaming criticism, natural wine, secret executive toilets, and how the internet changed media consumption.
Also, Arjun and Kevin talk about Arjun's two-week quarantine, and Arjun drops a BOMB at the end of the podcast.
Follow Bijan on Twitter and watch him stream on Twitch.
Please get in our inboxes with your questions and stories. We wanna hear from you and read your messages on an upcoming episode!
Bijan explains why and how he got into the media (4:25)

Bijan talks about being a college media member and if that helped him get his start (7:20)

Bijan's weird first job with an old media venture guy (9:27)

Bijan's pulls up his resume to go through his career timeline (11:22)

Today in Tabs and New York Media as an institution (19:58)

TFW you realize you're the only person of color in the workplace (re: "I Will Only Bleed Here," n+1 2014) (21:51)

When Bijan decided to not write about race anymore (26:43)

How the Black Lives Matter movement has and has not changed (re: "How Black Lives Matter Uses Social Media to Fight the Power," WIRED 2015)

Is the corporate adoption of the movement a form of progress? (33:53)

Bijan cracks a White Rascal! (37:54)

Bijan talks about bringing gaming into his work life (39:38)

Is gaming criticism good? (44:29)

Bijan wants to write about games, not race (51:45)

Why traditional media doesn't work right now, (re: "How MSCHF managed to dominate the internet — with fun!," "THE MAN BEHIND THE MUSTACHE," The Verge 2020 (55:56)

Failing editors in digital media (59:26)

Arjun's Feelings Don't Care About Facts Corner (Imposter Syndrome, Diaspora, and Racism) (1:02:31)

The Diversity Tribunal (1:09:35)

Arjun drops a BOMB (1:15:25)
Thanks for listening!