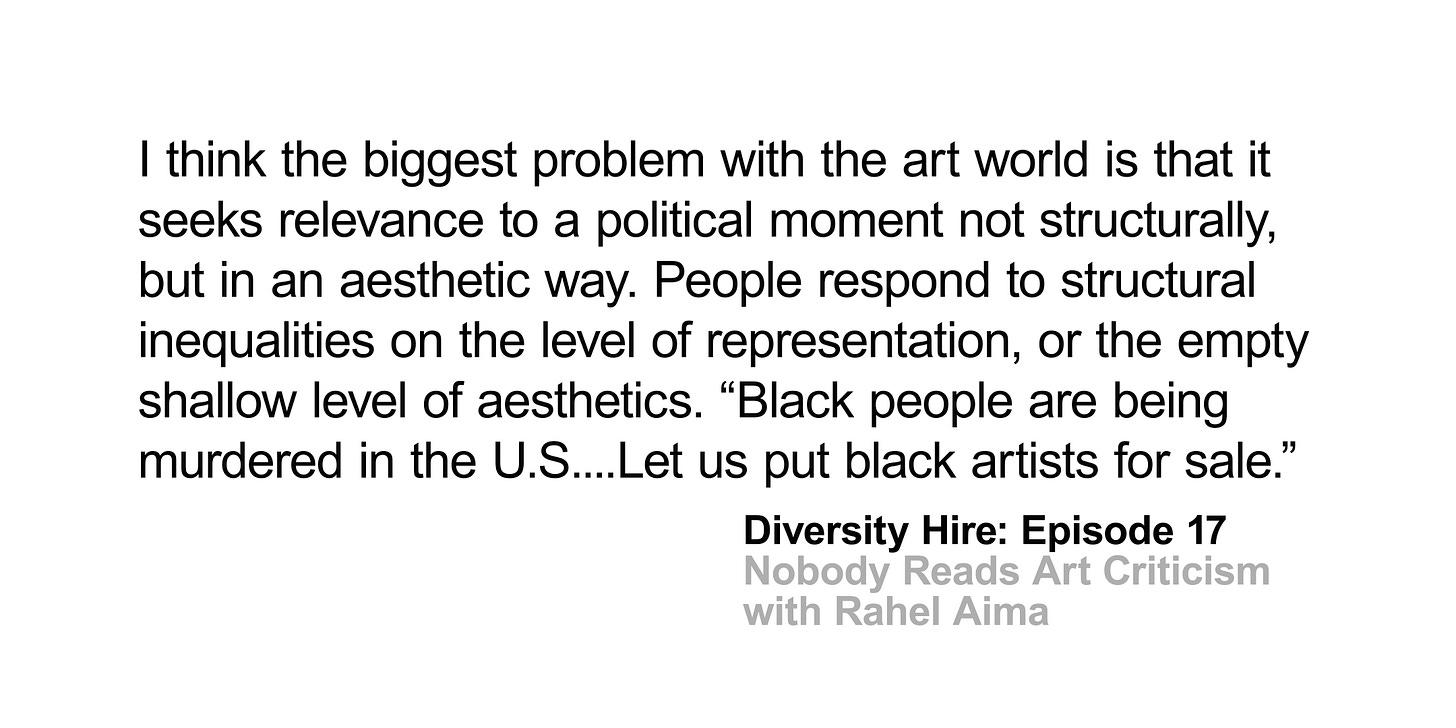 Hello and welcome to episode 17 of Diversity Hire.
Today we talked to freelance critic, editor, and writer Rahel Aima, who lives between Dubai and Brooklyn. We talked about the uncertain future of art criticism post the Covid lockdowns, the role art criticism used to play in the art market, why museums and galleries and most cultural institutions continue to be evil year after year, the misunderstood heyday of aughts NYC little magazines, what it's like to be a journalist beholden the whims of visa bureaucracy, and much more.
Subscribe to Rahel's substack, niͥghͪᴛⷮliͥfeͤ.
Thank you for listening!
Arjun & Kevin recap their Q&A zoom panel with the Harvard Crimson (0:00)

Rahel Aima talks about being back in Dubai (6:28)

Rahel's career timeline (10:46)

Discussing the early 2010s, the era of postinternet optimism and ironic hope (re: "The Printernet, The State," Red Hook Journal) (19:28)

The decline of the magazine as a font for intellectual culture (24:05)

Why do we keep putting our faith into industries that continue to prove to be not trustworthy? (re: "Depleting Felix Gonzalez-Torres," MOMUS, 2020) (26:10)

Pointing out moral inconsistencies in our lives (30:50)

What made Rahel gravitate toward art writing, and what has changed since then (34:30)

Who reads art criticism? (40:15)

Everybody resents reviews. So do we need criticism anymore? (44:15)

What criticism does is to extend the work (48:24)

The best criticism is adjacent (51:20)

We're all stuck online now. WTF happened to netart? (51:54)

Art world's tendency to seek relevance to a political moment on an aesthetic level (56:08)

Art criticism under the pandemic (re: "Following Closures, Art Criticism Faces an Uncertain Future," Study Hall, 2020) (57:52)

On Study Hall, JOC, and journalism peer networks (59:50)

Arjun's Feelings Don't Care About Facts Corner (1:02:16)

The Diversity Tribunal (1:10:50)
Arjun's disclaimer: The podcast is not a reflection of my employer (Conde Nast), and is a reflection of my own opinions. All opinions are my own and do not represent or reflect on the company's opinions.