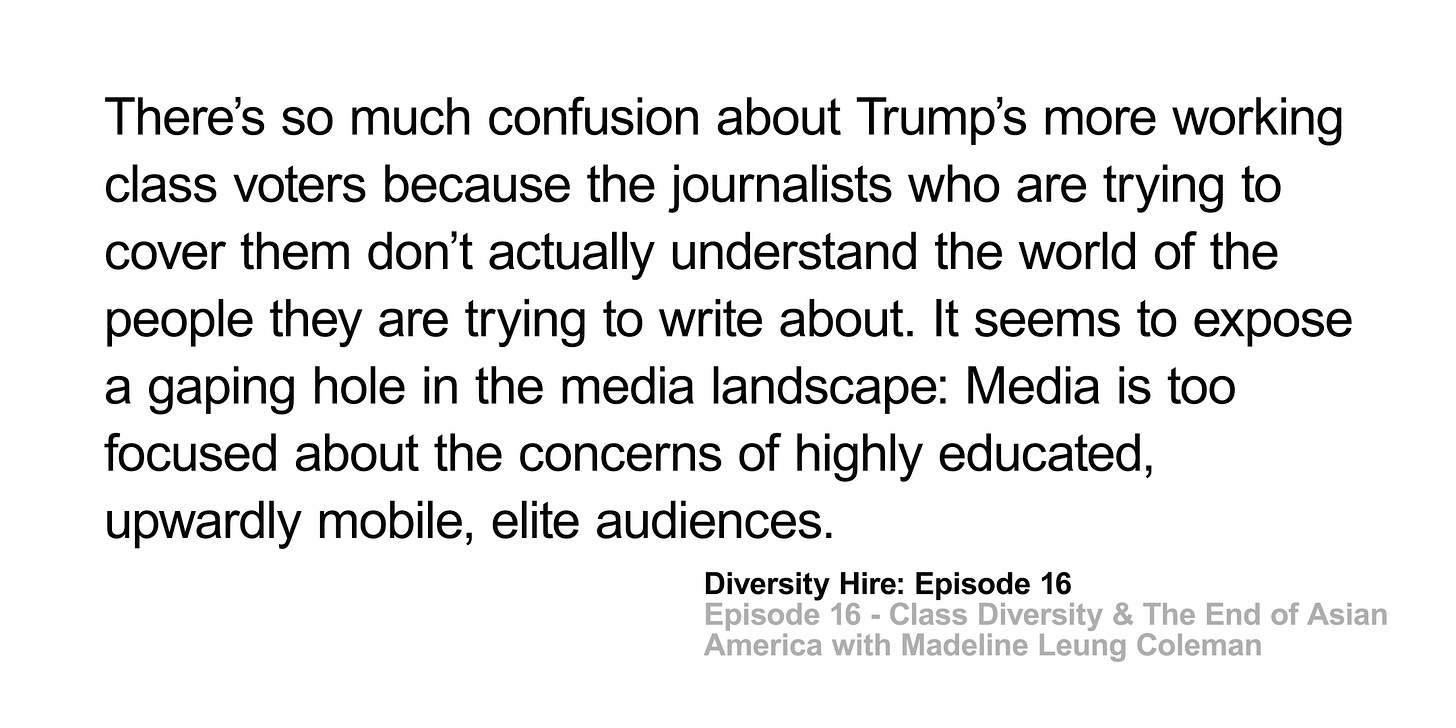 Hello and welcome to Episode 16 of Diversity Hire.
Today we talked to Madeline Leung Coleman, writer and editor based in New York City, who writes about art, immigration, race, labor, food. We discussed the need for both class diversity and non-NYC perspectives in the media, why liberal arts colleges suck, the limits of a term like Asian American, and hapa pride.
Also, Kevin and Arjun talked about autumn in NYC and Kevin's OOO vibe this week. Thanks for listening!
Arjun & Kevin talk about the elite college-NYC media feeder system (0:00)

Madeline Leung Coleman thinks media guys *cough* Kevin & Arjun *cough* talk too much about basketball (6:55)

Madeline leads us through her career timeline (9:22)

Madeline talks about having a normal life and a normal job before entering media (13:55)

Madeline shares her perspective of NYC media as a Canadian who didn't go to an elite east coast school (14:52)

Does the abundance of two-syllable-school alumni in media negatively affect the product journalists make? Does it make the culture worse? (21:04)

We talk about driving (23:19)

What does Madeline think we can stand to gain from having more class diversity in media? (24:41)

Madeline talks about her time at Topic, a magazine that was "too beautiful to live" (26:09)

Madeline talks about her time at The Nation and her masterful coverage of Hong Kong (30:21)

Does it matter if you're being edited by a POC? Does being a POC editor have an added benefit to writers? (37:01)

What to do about anti-Asian racism (re: "Coronavirus is inspiring anti-Asian racism. This is our political awakening," Washington Post, 2020) (40:38)

Why doesn't "Asian American" work as a term? (re: "What It Feels Like to Inhabit an Asian Body in America," GEN, 2020) (45:22)

Asian American representation politics in media and Hollywood (re: "How Chinese Food Fueled the Rise of California Punk," Topic, 2019) (49:46)

Will Asian American representation evolve past Crazy Rich Asians, or, white-approved Asians (52:50)

Arjun, for some reason, talks about Rooftop Koreans (54:34)

Madeline talks about the ways in which our people are only portrayed in relation to whiteness (56:20)

Madeline talks about a very important person (58:32)

Madeline has been threatening to drop the definitive hapa essay (1:01:10)

Arjun's Feelings Don't Care About Facts Corner (imposter syndrome, racism) (1:02:42)

White people will say things in front of half-white people that they wouldn't if they were talking to a 100% nonwhite person (1:07:11)

The Diversity Tribunal (1:10:00)