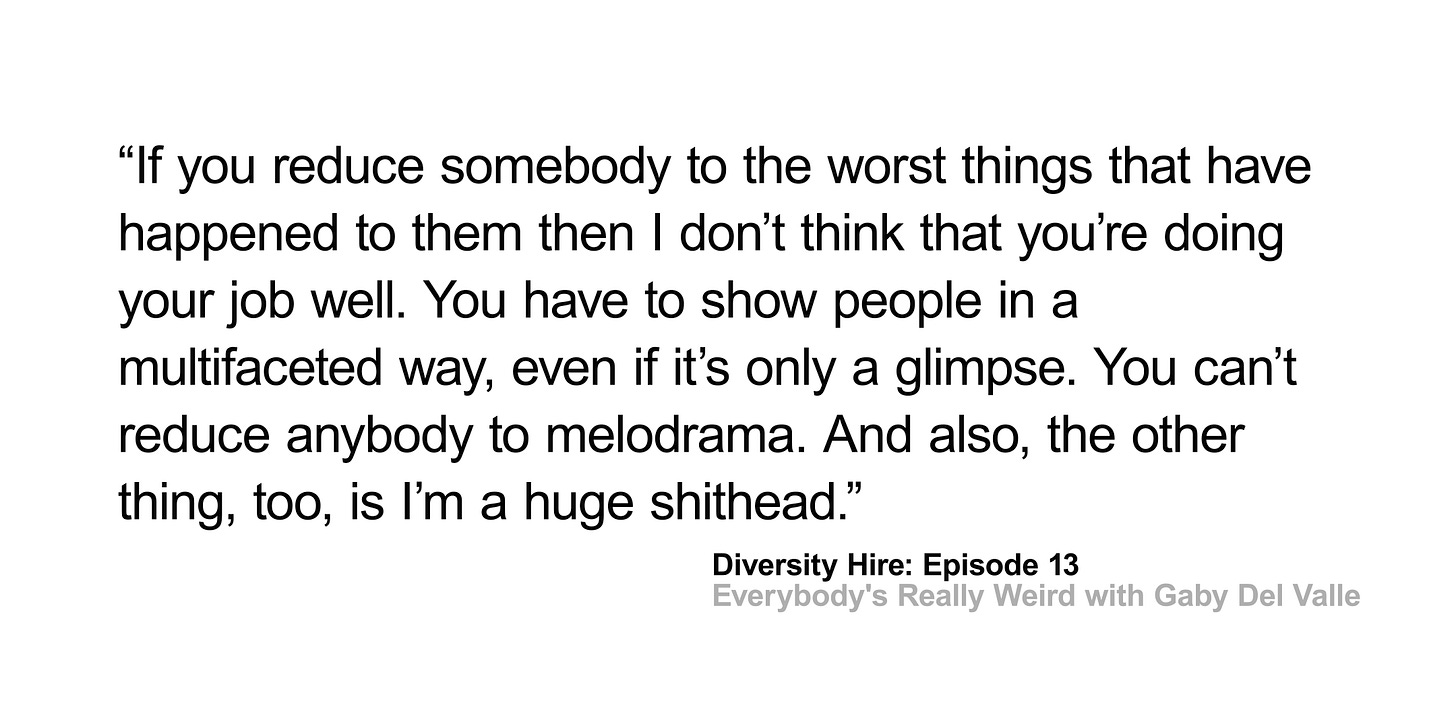 Hello and welcome to Episode 13 of Diversity Hire. 
Today we talked to Gaby Del Valle a freelance immigration reporter and the co-author of BORDER/LINES, a newsletter about immigration policy. We discussed how Gaby connects with her sources, the prejudices publications have around her beat, how media people were not cool in high school, the pros and cons of starting a Substack newsletter (you should subscribe to Gaby's!!), and how she balances grad school, freelancing, and many other side gigs.
(P.S. - We had some mic issues so the audio is scratchy at the start, but it gets better…we promise!!)
Thanks for listening!
Arjun and Kevin, again, talk about nothing (0:00)

Gaby leads us through her career timeline (6:53)

Prejudices publications have around immigration coverage and the need for novelty (10:50)

How Gaby is juggling all of her jobs, both writing and non-writing (14:20)

What's it like to be in grad school right now? (16:39)

Gaby leads us through the reporting of a recent feature and how she develops relationships and trust with her sources. (17:50) (re: "Waiting to Be Thrown Out," The Verge)

Why Gaby started BORDER/LINES (w/Felipe de la Hoz) and how she developed an expertise in the subject. (25:33)

Are newsletters really the future of journalism? Or maybe the better question is: Do normal people really care about journalists and bylines? (32:57)

Most normal people don't care about media people (34:27)

WTF is a Michael Tracey? (36:16)

Gaby's grand theory about why media people suck (37:21)

Are people still partying? (38:42)

How does Gaby manage to still be a fun writer whilst writing about really depressing topics (re: "When Environmentalism Meets Xenophobia," The Nation) (39:32)

How to be a compassionate and understanding observer of a story (46:33)

Has Gaby been edited by a POC and does that matter in regard to her beat? (re: "Real American Terrorists," The Outline) (49:51)

Writing about immigration that doesn't take for granted material concerns and is conscious of nationalist assumptions. (51:57)

Gaby's own immigration story (54:43)

Arjun's Feelings Don't Care About Facts Corner (56:07)

The Diversity Tribunal (1:06:32)