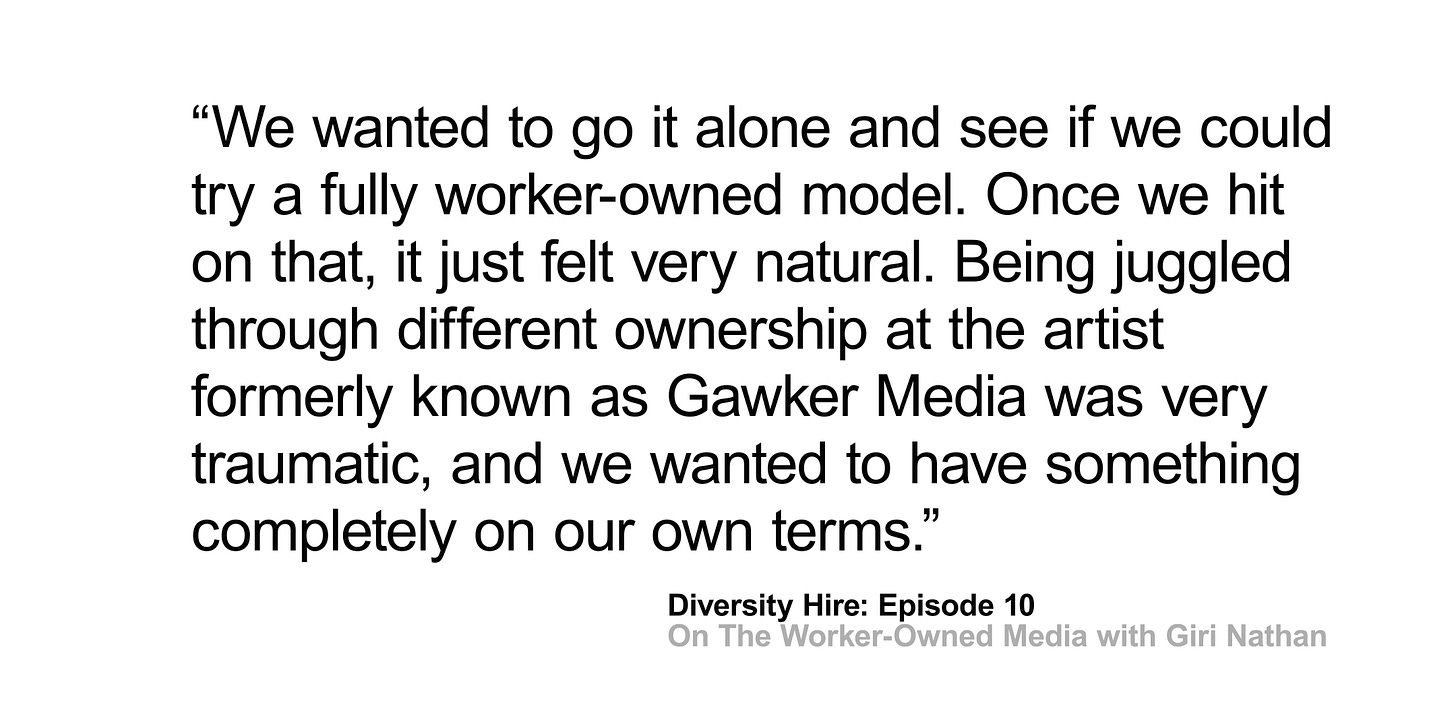 Hello and welcome to Episode 10 (!!!) of Diversity Hire.
Haters said we wouldn't make it...but here we are with a conversation with Giri Nathan, a co-founder of Defector Media, an exciting new worker-owned publication from the people who brought you Deadspin.
We talked about Defector's business model and what he and his colleagues learned about running a successful sports blog during their time at Deadspin. We also ask Giri how the company plans on creating a diverse workplace.
Come for the media industry shop talk, stay for the discussions on the beauty of tennis writing, sports conspiracy theories, and Giri and Arjun's new Tamilian Idol, Kamala Aunty.
Kevin and Arjun also talked about the "death" of the New York downtown scene and why Gen X is the worst generation. Thank you for listening, enjoy the episode, and send us questions, reactions, or any mail at diversityhirepod@gmail.com!
Disclaimer about NBA boycotts (0:00)

Arjun and Kevin blabber about the intrinsicality of basketball, Gen-X apolitical apathy, and the lack of accountability amongst the downtown literati (2:00)

Giri Nathan leads us through his career timeline (12:18)

What did Giri do between Deadspin and Defector? (17:54)

How can a horizontally-composed organization litigate internal beefs? (20:27)

How will Defector, which currently has a majority white male staff, commit to diversity? (22:05)

Plans for growth and revenue models. You know, business talk. Nerd shit. (24:16)

Is Defector a sports website? (re: "The Former Deadspin People Explain How to Launch a Worker-Owned Media Co-op That Might Succeed," Hamilton Nolan, In These Times, 2020) (28:04)

The pros and cons of blogging as a form, its democratizing power vs. its use as a tool under the late-capitalist ad revenue model (re: "Some Personal News From Samantha Irby," The New York Times, 2020) (29:43)

Arjun talks about being bullied on his music blog in 2006 (33:15)

How is Defector going to make blogging good again? (34:32)

Arjun announces the Thunder's game 4 win (37:00)

Giri's singular venture into tennis blogging (37:09)

Writing about sports without having to write about sports (re: "The Stefanos Tsitsipas Channel Is Always On," Deadspin, 2019; "The World's No. 1 Player Wants to Sell You Nootropic Garbage," Racquet, 2020) (43:35)

Geopolitics and sports (re: "When N.B.A. Players Go to Israel," The New Yorker, 2015) (45:50)

Kamala Harris and Tamil representation in pop culture (53:26)

GIRI'S BIG CONSPIRACY THEORY (55:45)

Basketball talk (59:50)

Arjun's Joel Embiid story (1:02:41)

Arjun's Feelings Don't Care About Facts Corner, including diaspora and identity (1:06:52)

Fuck Joel Stein (1:13:45)

Corny South Asians in American culture (1:15:45)

The Diversity Tribunal (1:20:17)
(There is a possibility that all these timestamps are all fucked up. Sorry. -Arjun)